Finance solutions for your next commercial vehicle
For the past 25 years, we have provided the finance solutions to get our customers on the road quickly.
Supporting small businesses
We've built up a reputation for supporting start-ups and small businesses. Our underwriters look at the individual as well as the business when making decisions. We look for solutions rather than being driven by credit scores which means a healthy acceptance rate.
Helping you manage your monthly budget
The interest on your vehicle loan is set at a fixed rate, so you know exactly how much money is coming out of your account every month. This means you can spread the cost of your LCV and manage your budget over the course of the agreement.
Quick and easy application
We know that speed is important to commercial vehicle buyers. When a vehicle is your livelihood, any time spent off the road costs job downtime. Our finance decisions are made in minutes while you wait, meaning your dealer becomes a one-stop-shop to get you back on the road quickly and keep your business mobile.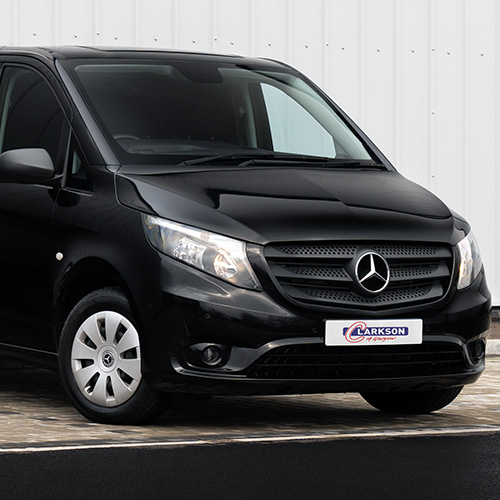 Why buy your next van on finance?
You take ownership of the van at the end of the agreement
Your van is classed as an asset on your balance sheet
Vehicle costs are 100% tax deductible
VAT registered customers can claim back their VAT on any LCV purchase
Credit lines
We are able to offer some of our customers' credit lines, to put the funds in place to finance your future or additional vehicles. This means all you have to do is to select your vehicle and ask your dealer to invoice us with no need for additional credit applications.
Understanding a diverse market
Did you know we will finance commercial vehicles from pick up trucks to minivans, to luxury and customised vehicles? Our underwriters understand the diverse commercial vehicle market and the priorities of an LCV driver. At Close we employ two commercial vehicle product managers to support our understanding of this vitally important sector.
Frequently asked questions
Clarkson Commercials are authorised and regulated by the Financial Conduct Authority. We are a credit broker and not a lender. We can introduce you to a limited number of carefully selected lenders and their finance products, which may have different interest rates and charges. We are not an independent financial advisor; we will provide details of products available from lenders that we work with, but no advice or recommendation will be made. You must decide whether the finance product is right for you.
We do not charge you a fee for our services (vehicle funding). Whichever lender we introduce you to, we will typically receive commission from them (either a fixed fee or a fixed percentage of the amount you borrow). The lenders we work with could pay commission at different rates. However, the amount of commission that we receive from a lender does not have an effect on the amount that you pay to that lender under your credit agreement. All offers and credit subject to status, terms and conditions. Applicants must be 18 years or over.
Who are we?
Clarkson Commercials, are a dealership established in 1978 acting as a credit broker in arranging finance for vehicle transactions.
Are we authorised to arrange finance for you?
Yes, we are authorised and regulated for credit-broking activities by the Financial Conduct Authority ("FCA"). We are not a lender. Our FCA Firm Reference Number is 660339 . For more information, please visit the FCA website at: https://register.fca.org.uk/. Please note that business customers may not be protected under the Consumer Credit Act 1974 or FCA rules.
What can we do to help finance your vehicle?
We can introduce you to a number of finance companies ("funders") who may be able to finance your transaction. There are other funders to which we cannot introduce you which may also be able to offer you finance.
We will provide you with information and explanations about the finance products that may be available to you. Finance is arranged subject to status and terms and conditions. We cannot guarantee that we will be able to secure finance for you.
Can we give you independent financial advice?
We are not independent financial advisers and so are unable to provide you with independent financial advice.
How will we use your information?
We will use your information to obtain quotes from funders and brokers to process finance applications through them and we and/or they may also conduct a search of your record held with one or more credit reference agencies. Credit checks may as a result appear on your credit file lodged by organisations with whom you have not dealt directly. The personal information collected will also be shared with fraud prevention agencies who will use it to prevent fraud and money laundering and to verify your identity. If fraud is detected you could be refused certain services, finance or employment.

Further details of how your information will be used by us is available on request. A full data protection notice/ privacy policy will be provided to you before we submit any application for finance on your behalf.
What can you do if you wish to complain about our services or contact us?
If you wish to make a complaint, please contact us:
* by writing to us at Complaints, Clarkson Commercials, 1-21 Swinton Cres, Glasgow G69 6AN
* by emailing [email protected]
* by calling 01417713990
If, after making a complaint to us you are still unhappy and feel the matter has not been resolved to your satisfaction, please contact the Financial Ombudsman Service ("FOS" – www.financial-ombudsman.org.uk). Please note that FOS may not be able to deal with complaints from business customers. If you require further information, please contact us by the means listed above.